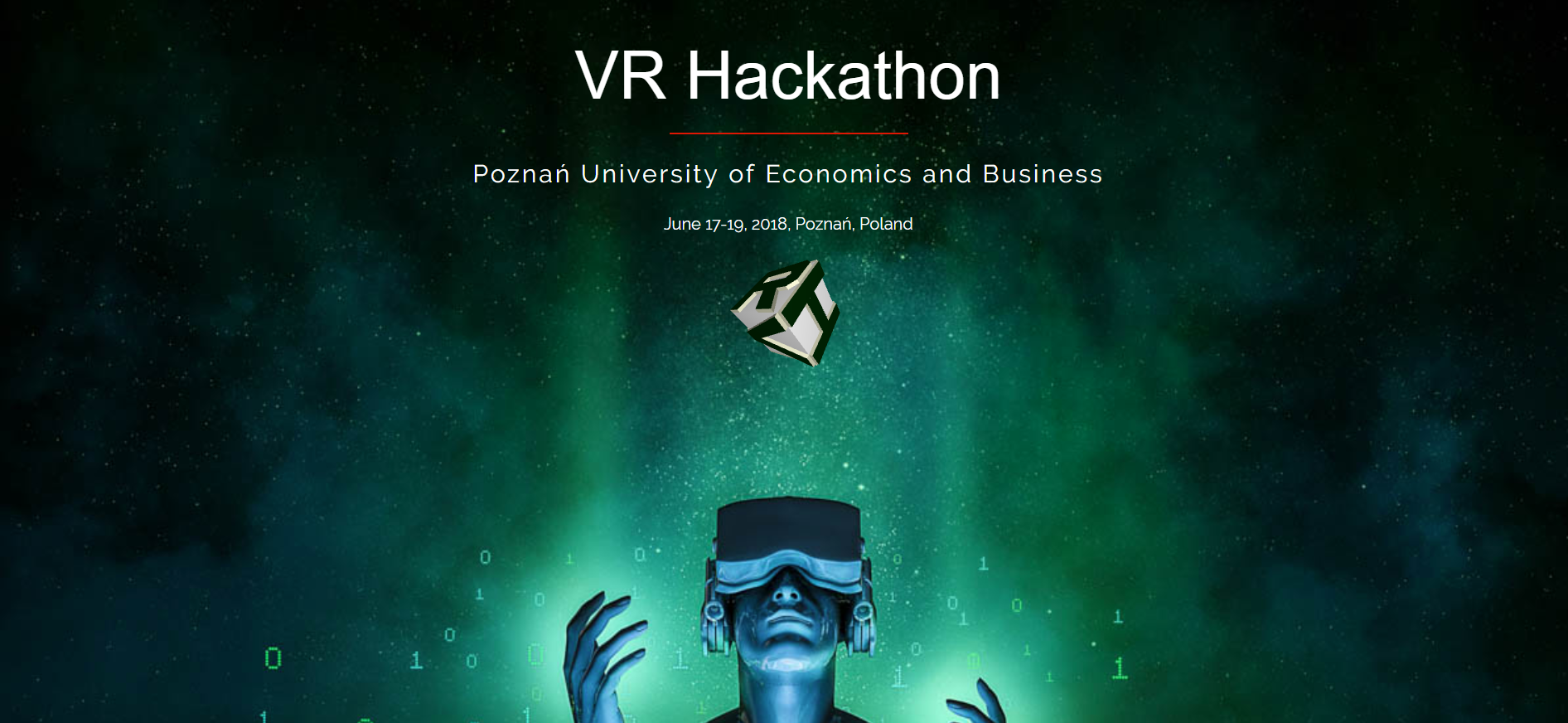 2017 has been a great year for VR innovation.
Our next 2018 VR Hackathon will be June 17-19, 2018 preceding the Web3D 2018 Conference. Register Here
Join us for a weekend of innovation, breakout sessions, networking with some amazing developers, and of course the chance to work with some cool new tools in both VR and AR. Here is how you can Host a VR Hackathon in your local area.
There are several Poznan VR Hackathon Sponsorship Opportunities or you may sponsor a Hackathon category.
We'll have industry leaders sharing the latest in mobile VR/WebVR. Companies from Europe will share what's going on in the VR/AR industry and their country's plans to see it grow.
Don't have an idea? No sweat,  mentors will lead an ideation that'll be fun, painless and get you to a great idea quickly.
Don't have a team? Again no sweat, the ideation process is also where you can find teams of people stoked about the same idea.
Don't want to be in a team? There are no set team sizes – teams of one or twenty are fine.
Don't know how to create VR? You'll find plenty of folks that are awesome VR developers, so bring your ideas, your talent, and your excitement.
Sunday June 17, 2018 is open to all, join us for a reception and explore ideas and form your team! Winners will be featured at the Web3D 2018 Conference June 20-22 following the Hackathon – so come, join us and win fame!
We will feature three tracks:
1. VR/AR Open – this is intentionally broad so you can follow your heart's desire for a killer weekend project.
2. VR/AR + AI – how are you combining Immersive Tech with AI to create great experiences?
3. WebVR, WebAR – create something amazing for web-based distribution!
Schedule:
Sunday, June 17 (Registration required) Register Here
5:30 pm – Hackathon Kickoff – Sponsor and Mentor Talks
7:30 pm – Networking,Team formation/ideation
9:00 PM – Team Introductions
11:00 pm – Doors close
Monday, June 18 (Registration required) Register Here
8:00 am – Doors open, breakfast
8:30 am – Second team formation if necessary – (Hacking Begins)
10:00 am – Breakout session
11:00 am – Breakout session
12:00 pm – Lunch
1:00 pm – Breakout session
2:00 pm – Breakout session
6:30 pm – Dinner
Overnight hacking encouraged!
Tuesday, June 19
8:00 am – Doors open, breakfast
12:00 pm – Lunch
2:00 pm – Team Presentations
5:30 pm – Awards
6:00 pm – Event ends
Rules:
All work must be original and begun at the hackathon.
All teams must have at least one member present
Be nice to each other (see code of conduct below).
Code of Conduct:
This is a community event and all members are equally welcome and to be respected at all times. We have a zero-tolerance policy for harassment or misconduct of any kind. We support diversity and inclusion. This includes those who are earlier on their learning journey, from an age, experience, or ability standpoint. It is crucial for the growth of our community that those of greater ability support and mentor those still learning.
Any disparaging comments, imagery, stories, jokes or other communications will be met with immediate expulsion.
Please contact the organizers directly or via anonymous email with any questions or concerns.